The title Finding Jack Charlton begs the question: was Jack Charlton lost? The answer, in a way, is yes. He died in July 2020 but at the time this documentary was being made (in 2019) Charlton was suffering from dementia (the film is made in association with Ireland's Alzheimer's Society) and was lost to everyone around him, trapped inside a miserable world of forgetting.
His condition is no crueller than when dementia strikes anyone else, but perhaps it is more pointed, because Charlton was one of those big, ebullient footballing characters, quick of wit, fiery, charming, like Brian Clough the sort of person who commands an interest even from people who aren't much interested in the game.
Gabriel Clarke and Pete Thomas's documentary could have taken a number of routes and found an audience. Charlton was part of Don Revie's Leeds United team with a reputation for combative play. Norman Hunter, one of Charlton's team-mates, had the nickname Bites Yer Legs. "I'm a destroyer, a batterer, a fouler," says Charlton when asked in archive footage about his reputation, and says it with a laugh. This was perhaps the great hard-man team of English football. Unexamined, except in passing .
Charlton was also, along with his brother Bobby, a member of the England team that won the World Cup in 1966. Though present-day footage catches him staring uncomprehendingly at a painting of the team hanging on the wall of his home, the documentary barely goes there either.
This is no "life of…" either. There's hardly any biographical detail about young Jack or Jack in later life. It's Charlton's time as manager of the Ireland team that's the main focus of the film, and it is a good story, since it's also the story of Ireland shaking itself down before entering its Celtic Tiger phase.
"Union Jack", as one protestor's banner dubs this English incomer, was not a popular choice for the job. The Troubles in the North were still raging and the Republic's bloody break with the colonial Brits was still in living memory. Jack upped the animus by drafting in players with only the most tenuous connection to Ireland. There were pub jokes about it. Jack was unfazed.
There's a lovely clip in the film of Charlton being quizzed on this subject by a very young reporter who's obviously been given the gig as a bit of a TV stunt. Up go the notoriously prickly Jack's eyebrows when he is punted the question about the lack of Irishness of his Irish team. "You've always exported people," he says diplomatically to the kid. "And now's their chance to come back and help out." That "come back" is a master tactician's touch.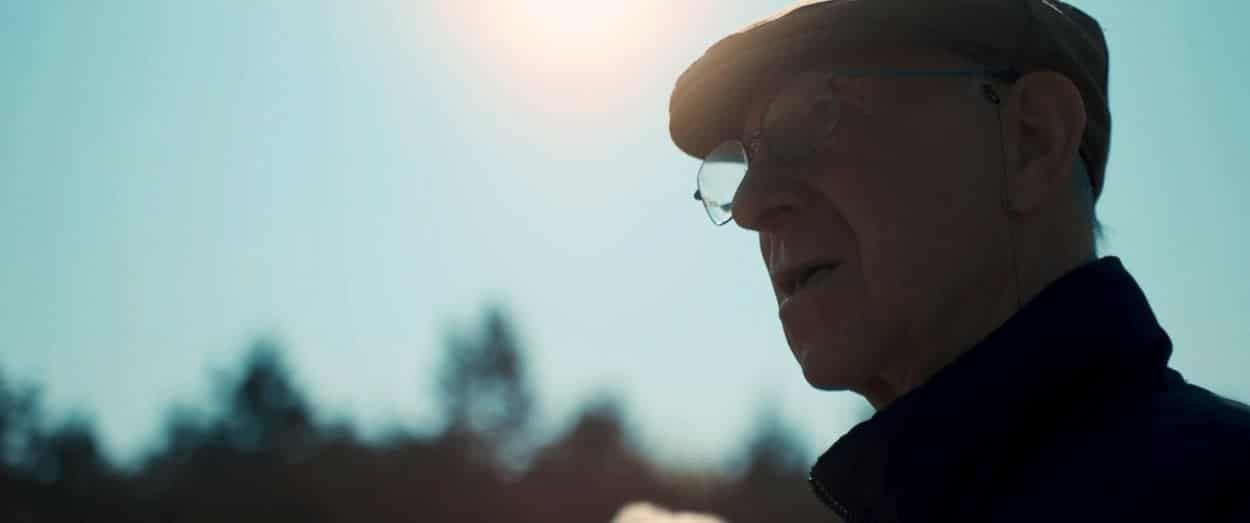 Charlton's tactics with the team was to introduce a more driving ahead-of-its-time style of play – "don't let them settle" – and it soon started yielding results. At Euro 88, Charlton's first game in charge, Ireland play old enemy England, and win. Then Ireland qualify for the World Cup in Italy in 1990, the first time they'd done so. "That's when the excitement started to happen," Jack recalls in archive voiceover. The Jack the Giant Killer myth starts to take wing.
It's a beautifully made documentary, sewing together all its various elements – football footage, archive clips, voiceover from old interviews, talking heads (including Roddy Doyle and U2's Larry Mullen), and present day material of Jack pottering about – and the skill is most evident in this central section, detailing Ireland's progress through the competition. The way Clarke and Thomas present the penalty shootout with Romania is not only immensely informative but it's also dramatically thrilling.
After Euro 90, the high water mark, there's diminishing returns in Euro 92 and the 1994 World Cup, but for Ireland even to be in those competitions was miraculous. Jack Charlton's reign ended with his resignation in 1996 after failing to qualify for Euro 96.
We probably don't need as much detail on the footballer Paul McGrath's drinking problem but it helps put Charlton and the Irish team of the time in context. These were the last knockings of the old style of football, when players smoked and drank heavily and the concept of a team dietitian wouldn't have been given much space.
So there is plenty of footage of Jack and his team having fun, drinking, singing, lazing around the pool after the game, while present-day reminiscence from ex-players like McGrath and Andy Townsend show there's clearly a huge well of respect there for a man who could be bloody-minded and difficult as well as charming and endlessly talkative.
Whether Jack does or doesn't get on with his chalk-and-cheese brother Bobby is a subject tip-toed around (he doesn't, but we're not sure why), and exactly what impact (literally) the years of heading heavy leather footballs had on his brain is touched on but hardly explored. His wife Pat ruefully concedes they might have contributed to his dementia. His son, John, isn't so sure. Jack's brother Bobby has dementia too.
And so we leave "Big Jack", his wits gone, apart from brief flashes, fly-fishing, still signing photographs, looking back on old TV footage of himself and realising "hey, that's me". A larger than life character laid low by a cruel disease but at least there's this tender film to remember him by.



Finding Jack Charlton – Watch it/buy it at Amazon
I am an Amazon affiliate




© Steve Morrissey 2021