Towards the end of 2021 Flee found itself in the curious position of being eligible for Oscar nomination in three different categories. Which way to jump? It eventually submitted itself as a contender in the Best International Feature category. Best Animated Feature was also an option. As was Best Documentary – though spotting that Summer of Soul was in that category would make anyone think twice.
Flee ticks all three boxes because it is a documentary telling the true story of a young man called Amin and his long and perilous flight from wartorn Afghanistan up to the moment, where he is about to marry his partner, Kaspar. It's from Denmark (box two) and Jonas Poher Rasmussen has decided, unusually, to tell Amin's story as an animation.
Why it's a feature rather than a documentary is slightly less obvious, though Rasmussen shapes his story like a fiction, starting out with a "problem" in act one, which develops in act two before being resolved in act three. And he mostly uses other people to voice the real-life people who took part. Though Amin's story is now two decades old, there are elements of it he doesn't want disseminating, even now, or not using the real names of the people involved.
There are notable forerunners who also blended fact and fiction using animation – Marjane Satrapi told her own story of growing up during the Iranian revolution in 2007's Persepolis and Ari Folman did something similar with Waltz with Bashir, his 2008 account of being a serving Israeli soldier during 1982's invasion of Lebanon.
Categorisation to one side, it's Flee's tone that sets it apart from other films telling stories about refugees seeking a new life. Which is useful because every element of Amin's story is familiar. The father disappeared by the Afghan government. The rise of the Mujahideen and Taliban. A king's ransom paid to people-smugglers to get the family out. Treking across icy wastes to reach Europe. A leaking boat across the Baltic. Arrest. Deportation. Trying it all over again, leading to eventual safety in Copenhagen, the rest of the family scattered to the four winds.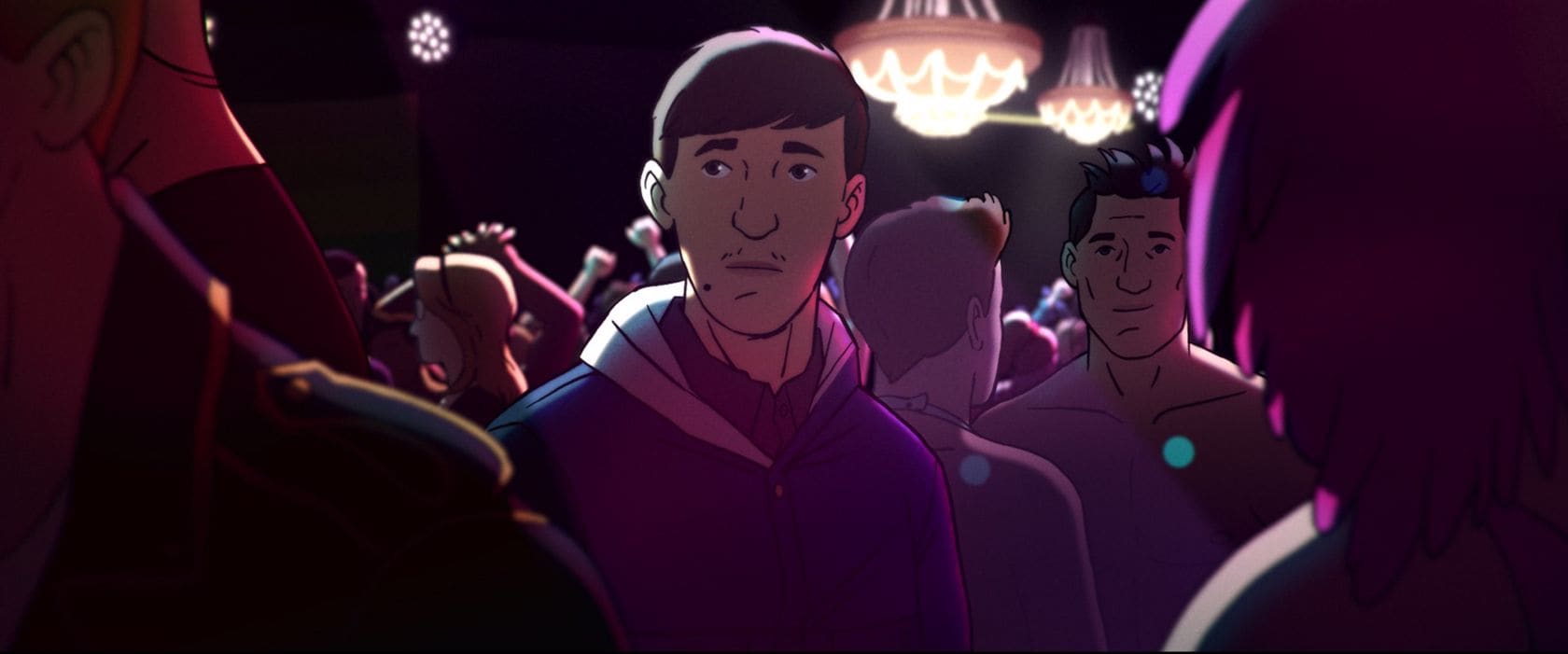 All recounted in a quiet, matter-of-fact way that both particularises and universalises – we feel Amin's pain because it could be our pain too. That's a neat trick by Rasmussen, who uses the fact that he's known Amin (possibly not his real name) since high school and so has an intimate access allowing him to gently tease out the story. The film's sound design helps too – gentle, poignant – which matches the simple animation technique faintly redolent of the animated Tintin adventures of the 1960s and 1970s.
There are two journeys here. The man from a reasonably joyous and not uncomfortable life in Kabul, into the maelstrom of the refugee experience, and out the other side, where Amin is now studying for a doctorate. The other is the story of Amin's sexuality, from a country that didn't even have a word for homosexuality, so Amin says, the little boy who liked to wear his sister's dresses grows up and, while being put through one wringer is also putting himself through another one, wondering how he can rid himself of this sickness, as he sees it.
Little flashes of humour also help round out the character of Amin, like the fact that he fancied Jean-Claude Van Damme growing up, a fact he laughingly recalls, while Rasmussen's animation has a naked-to-the-waist, oiled-up JCVD winking at Amin from out of a TV screen seen in flashback.
It's dark meat served up in a light sauce, the politics of it all neatly sidestepped. Whether it'll be able to beat other candidates for Best International Feature (which include Germany's I'm Your Man and Norway's The Worst Person in the World – both remarkable) remains to be seen, but it is certainly a worthy contender.



Flee – Watch it/buy it at Amazon




I am an Amazon affiliate






© Steve Morrissey 2022