Grief exploited for laughs. It's not something you see every day but it works in I'm Totally Fine, the sort of film Frank Capra would recognise – funny, big-hearted, soft-centred and focused on a love between two people that's not got even the tiniest shred of the sexual about it. In fact I'm Totally Fine pauses on two or three occasions, turns (metaphorically) to the audience and says it again, loud and clear – these two are friends. F.R.I.E.N.D.S – got it?
It's a two hander – give or take the odd intrusion by forces off to remind us of the non-sexual nature of their relationship – with Jillian Bell starring as Vanessa, a woman in all the stages of grief over the recent death of her childhood friend and latterday business partner, who winds up all alone in the villa she and dead friend Jennifer had hired to launch an ethical/organic drink they'd created together.
This was to be the beginning of the good times for Vanessa and Jennifer. They were going to get rich together and get old together, their kids were going to marry each other, the future was theirs for the taking.
Now, amid the debris of what were to be celebrations, with party planners arriving to set up as if to pile mockery on top of calamity, Vanessa sobs, takes a Xanax, piles into the champagne and sets about anaesthetising herself, pausing only to field telephone calls from her husband (who's only phoning to emphasise the non-lesbian nature of Vanessa and Jennifer's relationship).
But I digress. Next day, with the hangover from hell, and still alone at the big swish villa, Vanessa is knocked sideways when she is handed a coffee by Jennifer, or should I say "Jennifer", who quickly explains she isn't Vanessa's friend at all but an "extra terrestrial who has taken her form" and that she'll be there for 48 hours only. The deal is: the alien will take some measurements of this human life form and the human life form will get a little extra time to say goodbye to her friend, even though this version of her friend appears to have learnt English from an old Berlitz tape and doesn't have full control of her body. The one main thing in favour of "Jennifer" is that she does seem to have Jennifer's memories.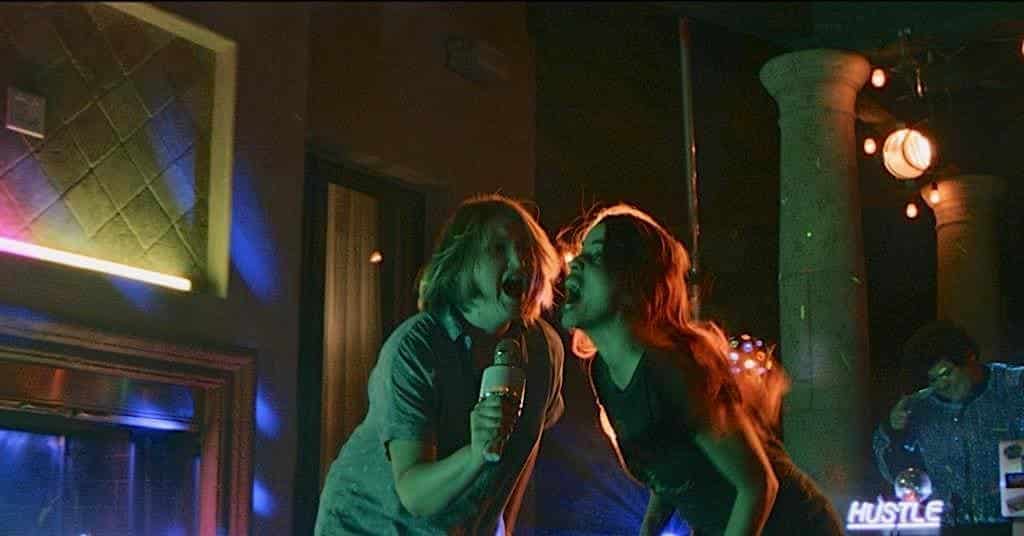 I'm Totally Fine is a distant relative of 2020's Palm Springs – another out-there comedy – and succeeds for the same reasons. The comedy is funny and the playing of it is excellent. Jillian Bell has a background as a comedy writer (for SNL) and performer but makes Vanessa about three quarters vulnerable and only inadvertently amusing – Bell is not doing "comedy", she's allowing it to happen. The incredibly busy Natalie Morales (eight shows in the works when this is also being made and with directing gigs now being added to her roster as writer and performer after the success of Plan B) actually does most of the comedy work and two things stand out – how rare it is to see a pretty woman pulling goofy faces ("Jennifer" has real issues with human eyebrows and doesn't seem quite sure about teeth either) and how impossible it would once have been for a non-white woman to be playing an alien. In Frank Capra's era angels and aliens had to be white and male.
Alisha Ketry's script rings the changes on the sort of interactions a "species observation officer" extra-terrestrial might have with a human subject, while director Brandon Dermer's handheld docu-style camera helps build at least a tiny sense that this might actually be happening – depending on how suggestible you are.
It's a nice, amusing and good-natured film and the only real complaint that can be laid at its door is that there isn't enough of it. It moves slickly from its intro phase of Vanessa and "Jennifer" getting re-acquainted to the outro phase of them saying farewell, leaving a chunk in the middle – the second act of a three act story – dying of neglect. Suddenly, in much the same way that "Jennifer" arrives and then is gone, it's over, leaving an "Oh, is that it?" hanging in the wind.



I'm Totally Fine – Watch it/buy it at Amazon

I am an Amazon affiliate



© Steve Morrissey 2022