When writers run out of ideas, they either start cannibalising their own old ones (see the episode from two weeks' prior – The Correct Way to Kill), they duck into comedy (no refuge for a series that already has its tongue boring a hole through its cheek) or they reach for genre parody.
Epic dips its toe in the water of the third option in an episode that parodies old-school Hollywood excess. Kenneth J Warren, Isa Miranda and Peter Wyngarde are the guest actors drafted into play a trio of archetypes, arch types, even – Warren is an Erich Von Stroheim stripe of director, all monocle, bullet head and high-flown notions of the importance of his art; Miranda is his Gloria Swanson-style fading star; Wyngarde a silver-haired flunkey hired by imperious director ZZ von Schnerk to appear in multiple roles in scenarios of his mad imagining.
Bolted onto this idea is the dream/nightmare fantasy beloved of 1960s TV series (particularly The Prisoner), after Mrs Peel is kidnapped, wakes up in a weird simulacrum of her world, inside a drama being directed by Schnerk and featuring Wyngarde's Stewart Kirby.
Multiple familiar movie scenarios follow, each starring Mrs Peel and an increasingly waspish Kirby, in what could be called a foreshadowing of the Westworld idea of fantasy role-play, with Wyngarde in the Yul Brynner role (or Thandie Newton, according to taste/age).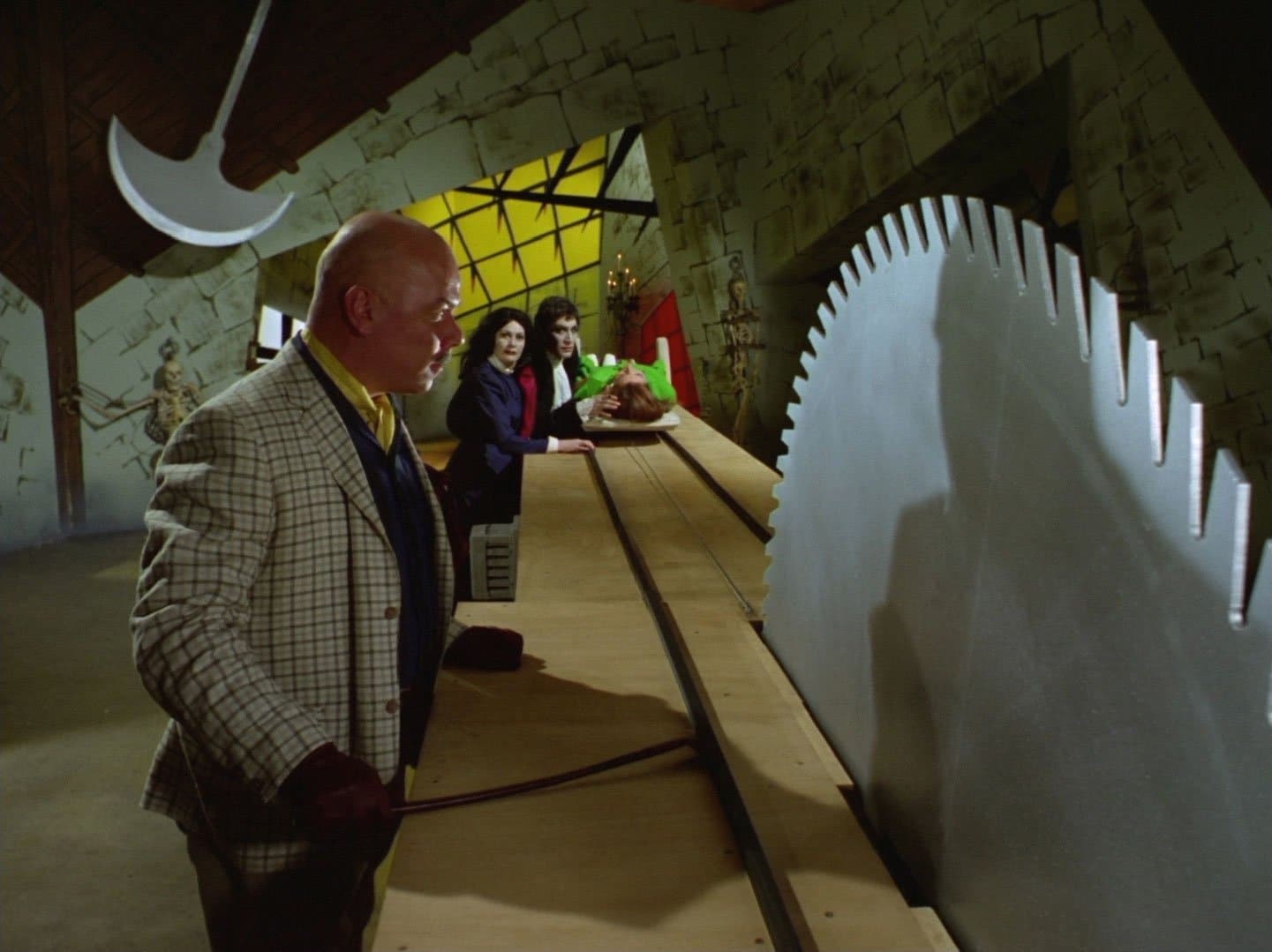 It's Emma Rigg's episode, almost entirely, and James Hill focuses very tightly on her face, which can take it, her harsh red lipstick, green trouser suit and white boots and polo-neck top working well with the colour red of the backgrounds, foregrounds, carpets, almost everything apart from Mrs Peel herself.
The tight focus also helps keep costs down – for British TV at the time, this is pushing well into cinematic territory, and that costs money. It's also, obviously, a case of the TV world – workaday, practical, churn-em-out – having a pop at overcooked, precious, spoilt cinema. All a lot of fun.
A couple of odd, glaring moments – the arch over the studio gate is modelled to look like the entrance to a concentration camp. All that's missing is the Arbeit Macht Frei. Bad taste. And the double-breasted jacket Steed's wearing, when he does finally show up to save the day, has a hideous crease at somewhere around boob level – this is either seriously bad tailoring or Patrick Macnee has put on a lot of weight.
Terrible actors laying on the ham is an idea that would later be the cornerstone of the Vincent Price classic Theatre of Blood (co-starring Diana Rigg), but as the episode winds towards its finale, it's The Pit and the Pendulum (another Price movie) that's evoked as Mrs Peel is propelled towards a rotating blade – "It will pack out the arthouses," cackles Schnerk.
Doesn't it sound like a ton of fun? It is and it isn't – the individual scenes all work, the overarching idea a bit less so, with the result that it feels like a series of far-fetched scenarios peopled with eccentric characters, which never quite adds up to a satisfying whole.
We're at peak Clemens.




The Avengers – Watch it/buy it at Amazon
I am an Amazon affiliate. Clicking on the link earns me a (vanishingly small) commission


© Steve Morrissey 2020