While shooting 1970s-porn-pastiche-horror movie X in New Zealand, and caught up in a bit of a covid quarantine hiatus, writer/director Ti West realised he might have the makings of a franchise on his hands. So he pitched the idea to production company A24 of extending his single movie into something more. They said yes, and West, wasting no time, immediately set about writing Pearl with his star, Mia Goth.
The franchise idea is loosely linked horror movies set in different eras and shot in different styles. X told the story of a gang of amateur porn film-makers in 1970s America getting their rich-hued sex/death/slasher/giallo-inspired comeuppance. In that film Goth played two roles – stripper/porn newbie Maxine and Pearl (see where this is going?), the old woman who lived on the farm where the would-be pornateers were cranking out their magnum opus.
Pearl tells that old lady's origin story and is set on recognisably the same farm, where young Pearl is a would-be dancer stuck with a no-fun religious mother, a father who is mute and paralysed, and with a husband who seems to have survived the First World War and is now on the way back home to reclaim his wife. However, Pearl wants out. She wants to see the world.
While Pearl stews and looks around for an exit, there is talk of a talent show coming to town to recruit dancers. Her chance? There is also a local projectionist (David Corenswet) who has spotted the pretty Pearl and is keen to impress her with private showings of movies. It's escape of a sort and gives her a glimpse of what she might become. And he's pretty cute too.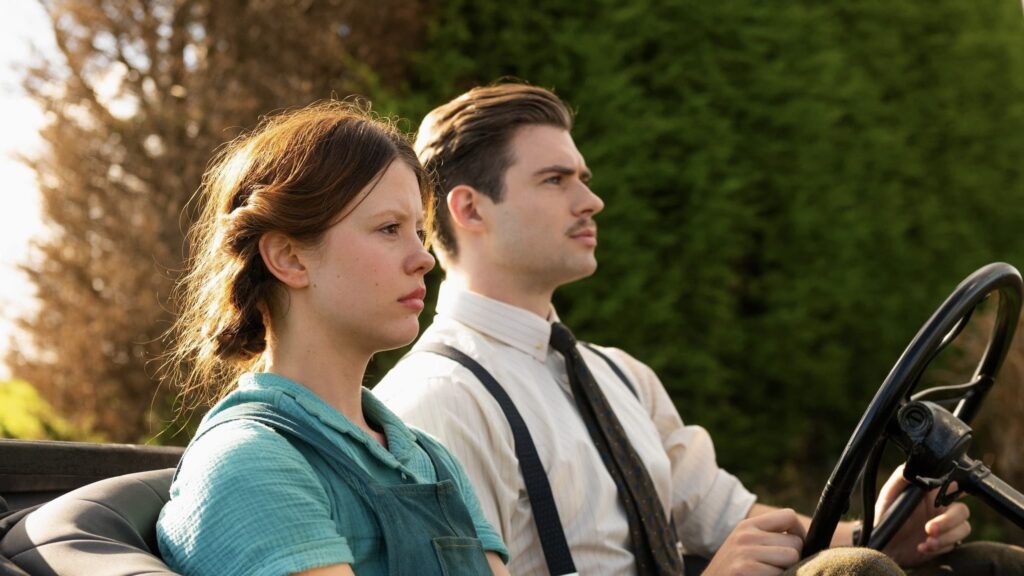 Meanwhile, West and Goth work a number of angles on Pearl's character. She seems at first most like Dorothy trying to get out of Kansas in The Wizard of Oz – there's even a scene with a scarecrow, though Pearl does something with it you wouldn't imagine Dorothy doing – but later more and more of Goth's performance seems to derive from Bette Davis. The determined stomp, the way she swings her bosom round first as she turns, that slightly corny Southern accent. And the eye-boggling, which comes to a brilliant climax in the long, long final shot when West and Goth seem to be indulging in an almost comical "how long can we keep this up?" game of dare.
West does it all as a pseudo pastiche of a golden-era Hollywood movie, with glorious crane shots and elegant tracking – which is why Martin Scorsese is presumably keen on it. Less golden era is the death and dismemberment on a fairly grand scale, the screaming and blood-letting, which owe more to Psycho and The Texas Chain Saw Massacre, both knowingly referenced but with a light touch.
Shot back to back with X, it is the better film. More direct, leaner, better performances. Goth in particular is brilliant – so frightening, the pent-up fury of the thwarted – but there is good stuff all round. Tandi Wright, playing Pearl's German-born mother, was the intimacy co-ordinator on X and switched into an acting role that required her to learn enough German to pass as the real thing. And Matthew Sunderland deserves some sort of award for "most with least" acting as the paralysed dad. A flinch is about all Sunderland has to work with, but it's a flinch with a killer impact.
There is apparently a third film in the works, currently going by the working title of MaXXXine, which follows X's Maxine into the 1980s. Goth has an exec producer credit on that too, as she does here. As West hoped, a new classic horror franchise looks like it's in the process of being made, along with a dark bright future for Goth. She has the right name for it.



Pearl – Watch it/buy it at Amazon


I am an Amazon affiliate




© Steve Morrissey 2022