Take your pick – The Rental is a deliberately confounding amalgam of genres or a film that can't work out what it wants to be.
It starts out looking like one of those cabin in the woods things, and we meet two couples – Charlie (Dan Stevens) and Michelle (Alison Brie), Josh (Jeremy Allen White) and Mina (Sheila Vand) – as they're arriving at a secluded and fabulous place by the coast, complete with ocean view and hot tub.
They also have a dog in tow, which the rules of the rental explicitly forbid. But they're entitled "white privilege" kind of guys and so those rules don't apply. Actually, one of them, Mina, isn't white (Vand's parents are Iranian) and has a bone to pick with the owner of the cabin, since she had tried to book exactly the same place a bit earlier, only to be told that it wasn't available.
Was this out and out racism? She has it out with the owner's brother, Taylor (Toby Huss) whose "just who do you think you are, talking to me like that?" attitude suggests Mina has got it in one.
So that's where we are, I thought. But no. It turns out that two members of this foursome – business partners Charlie and Mina – have a secret and strictly non-business thing going on with each other, one that they decide to consummate in the shower room after a day of bracing sea air, booze and drugs has loosened their resolve absolutely not to go there.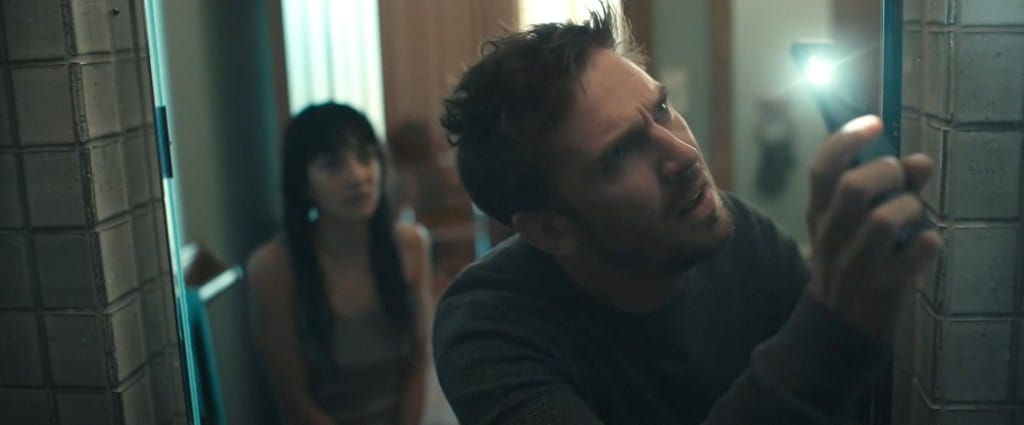 So that's where we are, I thought again. Not race but clandestine relationships. And then Charlie and Mina stumble on something that they should really report to the police, but don't because it would expose their affair.
More plot details will not be forthcoming, but The Rental runs quickly through a series of familiar scenarios – after the creepy house and the wrong relationship come a modern-day peeping tom revelation and a body to dispose of, before things even get properly going – switching between genres in a way that should be fun but isn't.
The script is partly to blame. It's written by first-time feature director Dave (brother of James) Franco and Joe Swanberg, and seems keener on catching the audience off guard than entertaining it – between gotchas, the dialogue in this film is flat, the characters are dull.
It took me three goes to watch it. The second time I turned off after ten minutes. Even so, it does manage some moments of tension, while simultaneously being boring, an outcome I can't quite explain. Maybe it's the cast, who are all excellent, from key players to creepy sidemen like Huss. Its looks are also crisply fantastic, thanks to the lensing by Christian Sprenger (who's a lot better than his gun-for-hire CV suggests). It's also got a great genre-tickling soundtrack, courtesy of Danny Bensi and Saunder Jurriaans, the composing partnership who are generally kept busy with TV work (on Fear the Walking Dead, for instance).
By the time it declares itself, with a big ta-daa, it's too late. Oh, it's that sort of film, you might mutter, if you can be bothered bestirring yourself.
There is a slight mystery here. Anything with Joe Swanberg involved in it should be at least interesting. Sean Durkin, director of Martha Marcy May Marlene and last year's excellent The Nest, is also an executive producer here, and that only amplifies expectations. They're disappointed by the finished product, which limps to the 90 minute mark as if trying to satisfy a contractual obligation.




The Rental – Watch it/buy it at Amazon


I am an Amazon affiliate






© Steve Morrissey 2021